News
Intellectual Property and Standardization / Online Symposium "Current Status of International Standardization in Technology and Design
2022.1.11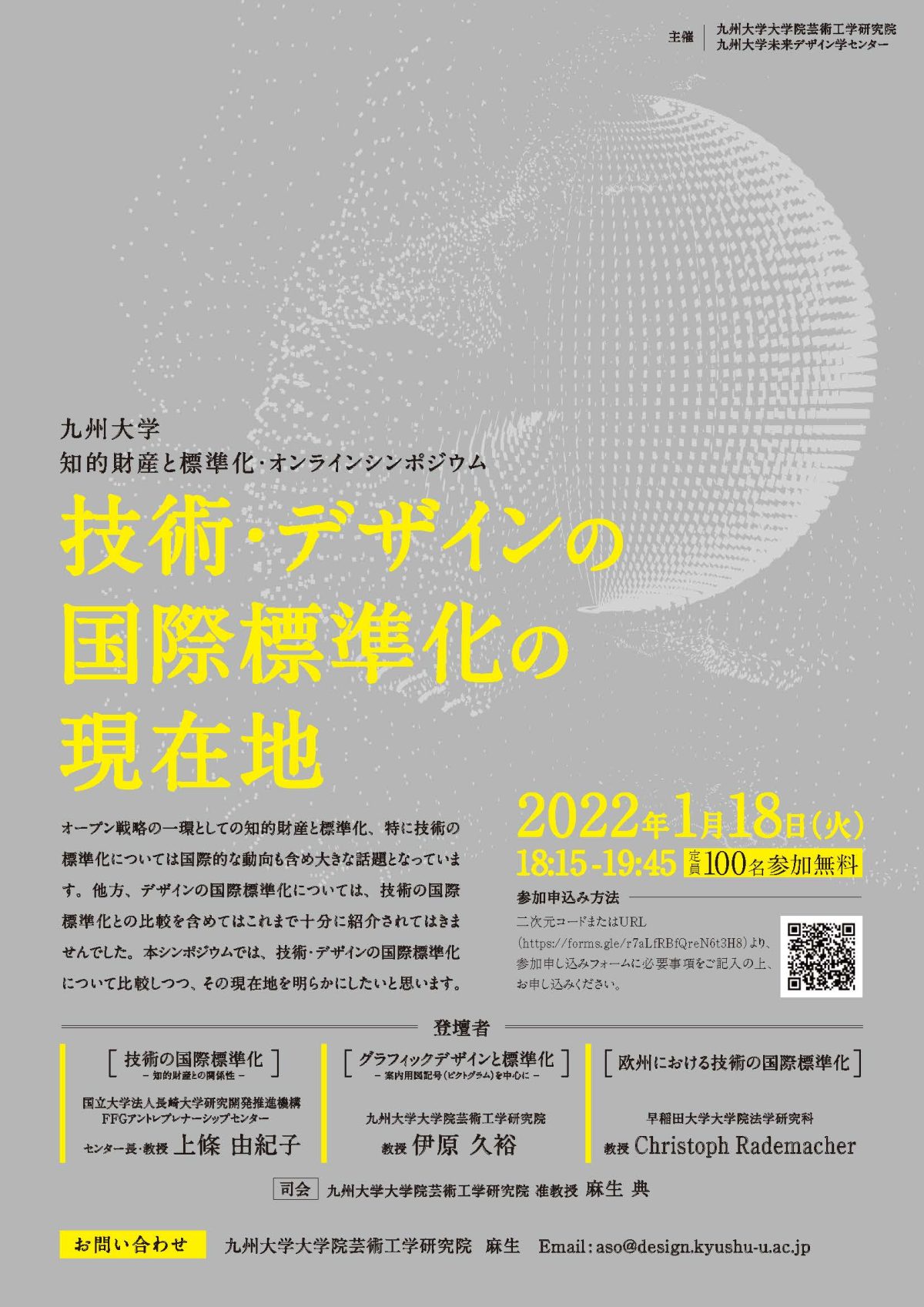 The Faculty of Design, Kyushu University, has been promoting an open and closed strategy for intellectual property.
Intellectual property and standardization as a part of the open strategy, especially the standardization of technology, has become a hot topic, including international trends. On the other hand, the international standardization of design has not been sufficiently introduced, including a comparison with the international standardization of technology. We would like to clarify the current status of international standardization of technology and design by comparing them in this symposium.
[Date]
January 18th, 2022, p.m.18:15-p.m.19:45
[Program]
Standardization of Technology: Relationship with Intellectual Property
Yukiko Kamijo (Professor and Director, Nagasaki University, FFG Entrepreneurship Center)
Graphic Design and Standardization: Focusing on Pictograms
Hisahiro Ihara (Professor, Faculty of Design, Kyushu University)
"International Standardization of Technology in Europe
Christoph Rademacher (Professor, Waseda Law School)
Discussion
Moderator: Tsukasa Aso (Associate Professor, Faculty of Design, Kyushu University)
[Venue]
Online
[Capacity]
100 people
[Fee]
Free
[How to register]
Please fill out the registration form here. The Zoom URL will be sent to you by email the day before the event. If you do not receive it, please check your spam folder.
[Deadline for registration]
January 17th, Monday
[Language]
Japanese
[Hosted by]
Kyushu University Faculty of Design, Center for Designed Futures of Kyushu University
[Contact]
Kyushu University Faculty of Design, Tsukasa Aso
aso(a)design.kyushu-u.ac.jp